Men's Health Presents Top 100 Project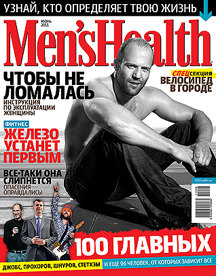 The June issue of Men's Health presents the project: "The 100 Main People Who Shape Your Life."
According to Men's Health editor-in-chief Kirill Vishnepolsky, "Men's Health readers lead active private lives, but it is impossible to be completely free of society while living in it. There are hundreds of people who determine exactly how each man will live his life. For example, a particular pharmaceutical scientist determines how long I can live, and a specific government official determines how much I will earn. Another specific individual, Steve Jobs, determines which technologies I will use to produce Men's Health. And Jason Statham is personally responsible for the fact that my 13-year-old son wants to become a bald-headed killer driving an expensive car. We decided to make a list of the 100 people who are most responsible for the way our readers live," he said.
The list was compiled according to thematic groups: sports and fitness, art, food, media, business and politics, health and medicine, style and design, and technology. Each category is accompanied by commentary and photos. The man on the cover: Jason Statham.
The release of the June issue of Men's Health and the "Top 100" project are being promoted with an ad campaign that includes outdoor advertising in Moscow, ads on Energy and Megapolis FM radio and POS displays.