National Geographic Russia 'On Stranger Tides'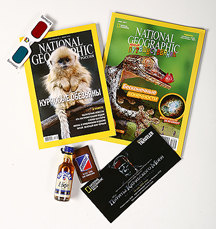 National Geographic Russia, with support from the 35MM movie theater, held a private screening on May 18 of the film "Pirates of the Caribbean: On Stranger Tides" — the continuation of the legendary maritime saga of our day. The unique movie was filmed entirely in 3D on exotic islands and rolling seas.
"On Stranger Tides" is the fourth in a series of highly successful and profitable "Pirates of the Caribbean" films that include: "The Curse of the Black Pearl" (2003), "Dead Man's Chest" (2005) and "At World's End" (2007).
Many friends of the magazine who were eager to see the film gathered at the theater before the screening. Each guest received a complimentary copy of the June issue of National Geographic Russia with stereo optics, a copy of National Geographic Kids magazine for children and a gift that any pirate would love — a miniature bottle of Brugal rum, the most popular rum of the Caribbean. Also, guests could view a selection of top National Geographic Russia photos on display in the lobby.
The Disney blockbuster "Pirates of the Caribbean: On Stranger Tides" was officially released for international distribution on May 18 in the format Disney Digital 3D by IMAX 3D.