New Questionnaire on RB.ru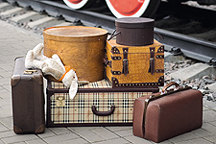 Are you fed up with everything and hoping to radically change your life? Would you like to live among different people? Start a career in a different country and gain new experiences? Finally trade the familiar Russian landscape for a new one? In short, have you been seized by the desire to move — but don't want to go very far? Have you been thinking how great it would be to live in Europe?
For people with more than a passing interest in this subject, the RB.ru portal offers a questionnaire to help them determine how easily they could live in a European country. Could this be the time to make the move?
Air France, acting as partner to the questionnaire, will give out prizes to participants. All you have to do is fill out the blanks at the end of the test, enter your contact information and you could win a model airplane, an umbrella or the main prize — two economy-class tickets to Paris.