The Moscow Times to Publish Russia-Italy Supplement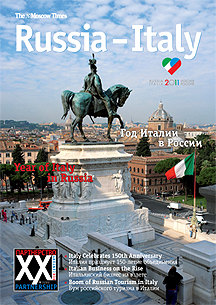 The Moscow Times newspaper presents the publication Russia-Italy. The supplement is timed to coincide with the observance of the Year of Italian Culture and Language in Russia and Russian Culture and Language in Italy. A series of related cross-cultural events will be held in 2011. The Russia-Italy supplement is produced with support from the Italian Embassy.
In an interview with The Moscow Times, the Italian ambassador greets readers and discusses prospects for bilateral economic, political and cultural cooperation. The publication also includes articles on the Caravaggio exhibition at the Pushkin Museum, the renowned Italian cuisine that has conquered Russia and active cooperation between the two countries in the field of tourism: Today more Russians visit Italy than any other European country requiring a visa.
Of particular interest is the map of economic cooperation between the two countries that shows the presence of Italian companies in every Russian region. The issue ends with an exciting contest for readers that promises the winner of a complimentary dinner for two at Cantinetta Antinori, one of Moscow's most famous restaurants.