RB.ru Laureate of PR in Russian Press Contest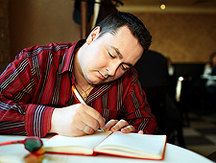 RB.ru journalist Andrei Kurtsev became a laureate of the national "PR in the Russian Press" contest.
The PR in the Russian Press award is an annual contest to determine the best noncore print and Internet-based publications dedicated to the development of the public relations field. The contest is open to professional journalists working as either staff or freelancers in the media — authors of material that addresses issues and trends in the development of Russian communications services and the significance of modern humanitarian practices for achieving greater unity in society as well as Russia's social and economic development.
Kurtsev received an award in the category of "Publications devoted to development of the public relations industry" for his article: "Russians don't like PR professionals and believe they are immoral."