Wedding at London White Gallery Exhibition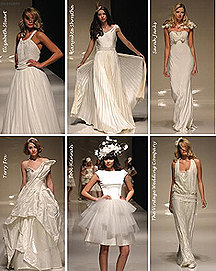 This was the first time that Wedding took part in the White Gallery exhibition, held in London from May 22 to 24. The magazine served as the official media partner to the event.
The Wedding logo appeared on all printed materials, and the exhibition website ran complete information about the magazine. The magazine's display booth occupied a prominent spot among the media outlets present and generated a great deal of interest among wedding buyers and designers. In the future, Wedding magazine plans to take part in leading international wedding industry exhibitions.
The White Gallery exhibition was held in beautiful Battersea Park. The exhibit featured collections by top designers specializing in wedding clothing, evening fashion and accessories. Wedding industry and international media representatives took part in the event.
The White Gallery exhibition is an ideal venue for leading wedding attire designers to showcase their new collections for leading international retailers and the press. More than 40 designers participated in the exhibit, and buyers came from every corner of the globe: Japan, the United States, Saudi Arabia and Russia. The number of participants increased 7 percent over last year's attendance, with at least 16 percent coming from abroad.