Wedding Dreams with Collezioni Sposa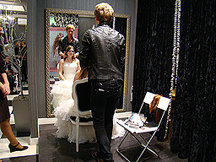 June 1 marked the conclusion of the Wedding Dreams promotional campaign by Collezioni magazine. The campaign was held in the best wedding boutiques of Moscow: Plumage Lux, Admire, Papilio and To Be Bride.
Collezioni magazine conducted a lottery among brides who bought wedding dresses between May 1 and 31, giving away lovely and useful gifts from campaign sponsors. These included romantic weekends in the Angleterre Hotel of St. Petersburg and the Radisson Royal Hotel Moscow, a cruise on the Moscow River on the Radisson Royal yacht, the staging and rehearsal of a wedding dance from the Dance Studio by World Class, wedding cakes from Caffeine confectioners, spa treatments, wedding makeup and hairdos from the Oblaka Studio beauty salon, wedding bouquets from Turandot florists, dinner at Gusyatnikoff restaurant and Deutz champaign.
Hairstylists, MilFey salon makeup artists and Turandot gallery florists conducted workshops for brides in each of the participating boutiques on May 14, 15, 21 and 22. The women were assisted in choosing makeup and hairstyles to go with their wedding dresses, and florists demonstrated floral decorations and gave advice concerning wedding bouquets. The time flew past with Deutz champaign, and the brides left happy — wearing smiles on their faces and carrying complimentary gifts.