New Publication from Alpina Business Books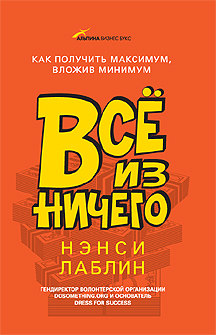 The book division of Alpina Business Books/United Press has released "Zilch: The Power of Zero in Business," a new book by Nancy Lublin. This is smart and entertaining book on how to conduct a business with limited resources — or with none at all.
A company can compete successfully on the market even if it is unwilling or unable to overspend or has no money at all. This book explains how to motivate employees to work with enthusiasm, even with irregular working days and very little money — and all for a "thank you," how to squeeze the last penny from the board of directors, how to promote a brand for free, how to receive goods and services through barter and how to turn any person — customer, partner or investor — into a supporter of your product. The publication includes numerous fresh ideas from the experiences of Wikipedia, Mozilla, Doctors Without Borders, Teach for America and other famous organizations.
This book is for those who already run a business but who are not very happy with the results, and for those who simply cannot recover after the economic crisis. It will be very useful for all directors or managers who are forced to make budget cuts, find more effective strategies and squeeze the most out of a small staff.