Collezioni at Alice in Wonderland Fashion Show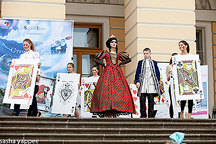 Collezioni magazine served as general media partner to a children's fashion show held on June 1 by the Societa'Italia company of St. Petersburg as part of the Imperial Gardens of Russia Festival.
The Mikhailovsky garden and park ensemble, the setting for the Russian Museum built in 1819-25, was transformed into an exclusive podium for the Alice in Wonderland fashion show. The tender and romantic images of Miss Blumarine, relevant and innovative models from Ice Iceberg, the boisterous dynamism of Ki6, casual chic variations by Parrot, ideas for little tots by Les Parrotines, original accessories and hats from Regina, soft down jackets by Manudieci and the glam rock style from Philipp Plein Petite were presented in an open air showing for the first time.