The Moscow Times at Digital Branding Summit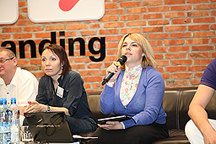 The Moscow Times Marketing Director Yekaterina Movsumova took part in the Digital Branding summit. Each year the event brings together representatives of leading international and Russian companies who share their experiences in digital media.
Movsumova was an expert speaker during the session at which VTB 24, MegaFon, Sportmaster and well-known new media advertising agencies presented their business cases. Movsumova shared the experience of The Moscow Times implementing youth projects in social networks. The newspaper regularly holds competitions aimed at young audiences that actively involve VKontakte, Facebook and other social networks, thereby attracting a large number of participants from various cities. More than 350 people aged 18 to 25 took part in the amateur photo contest on the theme of Innovation for the Benefit of Humanity.
The conference gave participants a unique opportunity to see presentations by the world's best digital companies and to evaluate the role that digital communications play in building a brand.