Collezioni at Fashion Summer Awards 2011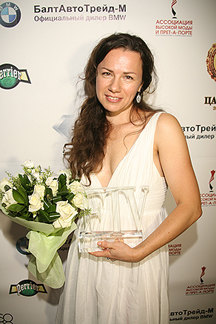 Collezioni magazine won the Fashion Magazine award for its wide-ranging and thorough coverage of trends in the fashion world at the Fashion Summer Awards held on June 8. The Fashion TV awards ceremony took place at the Royal Bar in Moscow. Event hosts Timur Rodriguez and Milana Koroleva presented the crystal statuette award to magazine editor-in-chief Irina Chernyak.
Every year, Fashion TV brings together the brightest stars of the city's elite to select and award prizes to the best of the best. On June 8, Moscow's elegant Royal Bar became the center of attraction for these true aesthetes, connoisseurs of fashion, beauty and refined lifestyle.
Nominees for the 2011 awards included representatives of the restaurant business, entertainment field and fashion industry. Per tradition, the High Fashion and Ready-to-Wear Association of Russia acted as partners to the event. The awards ceremony included a showing of the Valentin Yudashkin collection and an exclusive showing of the Corsocomo fashion brand of shoes and accessories.
Musicians of Russia's pop scene entertained the guests who, by tradition, included politicians, successful businessmen, editors of glossy magazines, fashion designers, top models and show business figures.