Summer Guide: New Release from The Moscow Times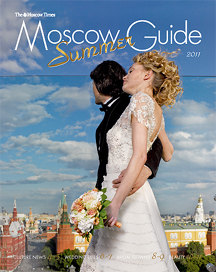 The Moscow Times presents a new edition of its Summer Guide, released this year along with the St. Petersburg version of the guide, White Nights. Journalists from The Moscow Times and St. Petersburg Times invite you to spend an unforgettable summer in the two capitals.
The Moscow Summer Guide is themed to weddings because summer is traditionally the time for weddings in Moscow. The publication lists the best hotels with services for newlyweds and the places around town that young couples traditionally visit on their big day. The guide provides tips on buying a wedding dress and offers an overview of the spas that every newlywed should visit on the eve of their wedding ceremony. The publication also lists the best cultural events in Moscow this summer.
The White Nights guide features a fascinating article about the famous parks of St. Petersburg, offers recommendations on the best restaurants in town and includes a city map with useful information on St. Petersburg eateries and attractions.