Festival for Vedomosti-Friday Supplement Readers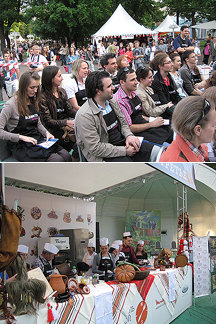 The Vedomosti-Friday supplement held a culinary workshop and wine tasting event for its readers at the Hermitage Garden last weekend.
The culinary journey through Italy on Saturday began with a young woman and sommelier who discussed the wines made in Mediterranean countries. Her presentation made a big impression on all of the assembled guests. A chef surprised everyone with a recipe for risotto in pumpkin and prepared snails for the gourmets present. Chef Milka closed out the evening by actively involving guests in the preparation of Bulgarian chushka byurek. A national sommelier told of his first encounter with Bulgarian wine. Guests were especially impressed with ice wine made from very ripe grapes gathered after the first frost.
Braving the rain and cool temperatures on Sunday, guests took a "voyage" on which they could try risotto with scallops and cuttlefish, salmon with smoked paprika and oyster mushrooms, and learn the secrets of cooking pesto and aioli sauces. A sommelier also introduced guests to a range of exquisite French wines.
Every participant received a complimentary Vedomosti-Friday apron, restaurant gift cards and photographs of the event.