Summer Issue of Harvard Business Review – Russia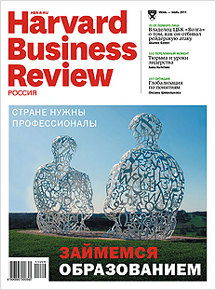 A new issue of Harvard Business Review – Russia has been released. In the June-July issue, readers will find:
Capitalism that aims at the future. The world has changed rapidly in the last several years — the durability of political and economic systems has been tested and the process does not seem to have ended yet. The effects of the crisis will continue, and we are likely to see an escalation of geopolitical rivalries, new challenges to international security and increased tensions caused by trade, migration and the struggle for resources. How can the world's business leaders influence the situation? Readers will find answers to these questions in the article by McKinsey managing director Dominic Barton.
First person. Not everyone who has been subjected to a raider attack likes to talk about what is usually the most unpleasant experience of their life. That makes it all the more interesting to know how to ward off those who love seizing other people's assets. Shalva Breus, owner of Volga, Russia's second largest pulp and paper mill, describes how he faced a powerful raider attempt in 2004.
Life work. World famous dancer Mikhail Baryshnikov is still dancing at 63. He also works in theater, film and television and manages the Baryshnikov Arts Center he founded. In this interview, he explains why he is always taking on new projects and how he made the transition to supervisory work.