National Geographic Russia in July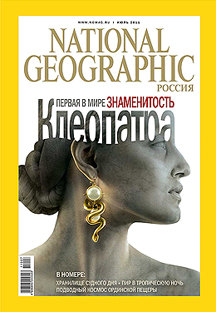 The Search for Cleopatra is the main article in the July issue of National Geographic Russia. It tells the story of one of history's most enigmatic women. Cleopatra captivated two Roman generals and was renowned for her wisdom and her passion for intrigue. The last descendent of Ptolemy, Cleopatra left an indelible impression on the history of her era.
Also in this issue:
The Lena Pillars. The story of how animal remains discovered in layers of reef and shale in giant rock cliffs on the banks of the Lena River forced scientists to reconsider their views about who descended from whom.
A nursery for rare cranes. Explains the methods that Oka Reserve rangers use to maintain the population of the world's most ancient line of cranes.
Disaster reserves. An article on a unique collection of seeds that will help preserve biological diversity and feed the world's growing population.
Five thousand meters underground. A photo essay on an incredible underground journey straight out of a Jules Verne novel – and cave divers who have no fear of the underwater maize.
Open all night. An article on flowering balsa wood, sweet nectar that attracts many of South America's inhabitants: insects, bats and even Capuchin monkeys.
The issue goes on sale June 28.