National Geographic Russia Supported Moscow-Tuva Videocast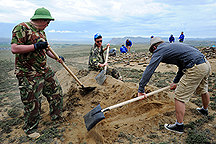 National Geographic Russia became the information sponsor of the first videocast, "Moscow – Valley of the Tsars in Tuva," which was held between the capital and members of the archeological expedition of Russian Geographical Society "Railway Kyzyl – Kuragino" on June 30.
The videocast featured Sergei Shoigu, president of Russian Geographical Society, Nikolai Kasimov, head of the geographical department at Moscow State University named after M.V. Lomonosov, Vladimir Kotlyakov, director of the geographical institute at the Russian Academy of Sciences, and the head of the volunteer students' camp. The participants discussed the current season's plans.
According to the plan, 20 to 25 hills are to be dug. By now several unique items, which supposedly belong to Scythian epoch (the ninth to fifth centuries B.C.), were found. The list of priceless discoveries includes:
a stone boulder with oval sides, one covered with an embossed rendering of a human face; an oval stone grain bruiser (40x30 сm); a stone long-square muller; and a perfectly intact bronze decoration for a horse harness with a drilled-in hole in the middle.
The diggings will last for four seasons, and nobody knows what other unique discoveries await young archeologists.