United Press Presents Veuve Clicquot Story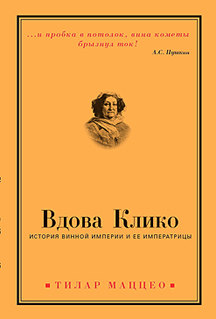 The new book titled "The Widow Clicquot: The Story of a Champagne Empire and the Woman Who Ruled" by Tilar Mazzeo came out in Alpina Business Books/United Press. It tells the story of a young woman who founded an empire of champagne wines, unveiled style and luxury to the world and became a legend during her lifetime.
Veuve Clicquot champagne embodies style and luxury. But who was this widow who supplied her wine to the courts of France, England and Russia, and how did she manage to transform a small wine business into a famous champagne empire?
In "The Widow Clicquot," Tilar Mazzeo reveals to us the real image of the woman hidden by the traditional yellow label.
Having witnessed the dramatic events of the Great French Revolution and losing her husband during the Napoleonic wars, young Barbe-Nicole Clicquot Ponsardin had to take the management of the family business into her own hands. Leading her company through political storms and financial shocks, she finally became one of the wealthiest women of the time.
Although Veuve Clicqout has become a symbol of France, the story of her life had not been properly researched and presented to the public. "The Widow Clicqout" is a comprehensive historic investigation that not only provides readers with information about this outstanding woman and one of the world's first businesswomen, but also delves into the technology of champagne production as well as the temperaments and customs of the changing epochs through which Barbe-Nicole lived and worked.