Collezioni in September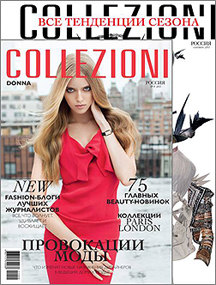 The September issue of Collezioni Donna with the "Season Trends" supplement was released for sale on Aug. 23. The supplement is printed in a format larger than the magazine itself and is packaged in a special wrap.
This issue includes:
Another era. Young and promising designers with top jobs at fashion houses. Change is coming.
Trends: rich, vibrant colors reminiscent of last summer and light capes with fur trim, vests and fur accessories to keep you warm this fall.
Directions: second skin. The most striking, original and amazing brands of jeans that do something more than mere jeans.
Fashion blogs from the best journalists: the most modern way to convey the exciting and captivating happenings of the day.
Makeup from specialists with leading brands Chanel, Dior, Yves Saint Laurent and others. The most striking trends of the fall-winter season.
The best collections from Paris and London catwalks.
A marketing campaign supporting the issue includes ads on television, radio and banners on the facades of the Vremena Goda Gallery.
Collezioni — fashion in your hands!