Book of 50 Matrimonial Success Stories from United Press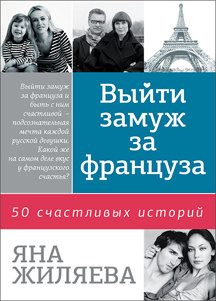 The book division of Alpina Business Books/United Press has released a book by Yana Zhilyayeva titled "To Marry a Frenchman: 50 Success Stories."
The heroines of the book include an uncommonly beautiful model from a family of Foreign Ministry officials, a retiree from Central Russia, the actress Dinara Drukarova, the legendary Olga Sviblova and marriage agency clients. The book brings together dozens of real and incredibly fascinating stories of Russian women who managed to create happy families with French men along with witty observations by the author.
The reader will discover the everyday side of French culture through the eyes of Russian women. Everything is here, from the original standards of grooming and the style of spending money to the peculiarities of family medicine to the fruits of French education and the secrets of Parisian chic. This is a story proving that Russian women can do anything, as well as the value of becoming a French national while remaining Russian at heart.
Yana Zhilyayeva is a professional journalist and interviewer with more than 20 years of experience. She wrote about the first female astronaut for the first issue of the Russian version of Elle, about Russian actresses for InStyle and about new theater and contemporary art for Harper's Bazaar. The author believes that conversing with people is an effective way to learn about the world and about yourself — and now she is eager to share her discoveries with readers.
Zhilyayeva attended her first journalism course at the table in her grandfather's living room: Renowned Moscow journalist and writer Vladimir Safronov used to gather friends and acquaintances in his home almost every evening for spirited conversations. He did it so charmingly and creatively that he passed on the love for long conversations to his granddaughter. She, in turn, made it her profession and has never regretted it for a moment since.