Men's Health for the iPad: 10 Months on the Virtual Market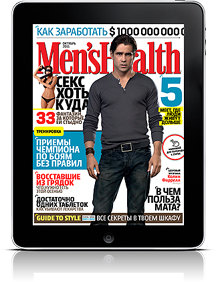 Men's Health Russia has been on the virtual marketplace for 10 months since becoming the first and most significant men's magazine to produce an application for the iPad.
The application has undergone significant changes since its initial release: Navigation has been improved, making it possible to instantly move from one area to another with a simple click on a text notice on the cover or in the "Impulse" section, exclusive content for the iPad version has been included, such as photos, videos, music and animation, and the 3D effects have become more varied and interesting. The magazine's editors and writers frequently take part in the production of videos for the iPad version. 
The October iPad issue includes videos by MH editor Ivan Glushkov jumping off a cliff and MH editor Anton Ivanov teaching Natalya Timonkina how to drive. Readers will also see an exclusive video with Russia's 2011 200-meter track champion Yelizaveta Savlinis and can check out original animation that includes an astronaut in a spacesuit who can be turned in various directions. If you overdo it, though, the tether will snap and he will be hurled into space.
This month's issue of Men's Health has a surprise in store for readers — a large-scale 3D animation of a money generator. This has never appeared in MH before — a machine spanning several pages that turns and throws money in all directions.
This issue also includes new movie trailers and videos in the "Iron / Test Drive" section, as well as additional photos.
More information is available at www.ipad.mhealth.ru.