Thickest Issue Yet of Cosmopolitan Psychology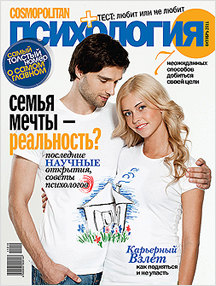 The October issue of Cosmopolitan Psychology magazine is being released with the slogan: "The thickest issue on the most important questions." This is the first time the magazine will have 196 pages rather than the usual 148.
The cover story is: How to create an ideal family. Psychologists explain how men and women work at their relationships to make the fairytale aphorism "they lived happily ever after" come true.
Also in this issue:
How to achieve your goals: The magazine's editors compiled the latest research in this area along with the advice of successful people who use somewhat nonstandard approaches to achieving their goals;
Why do people believe that friendship cannot exist between a man and woman? This article explains why and how we need to eliminate this stereotype;
Psychotherapy in China: a report revealing how one of the world's oldest civilizations — and one with the most dynamic development — resolves emotional problems;
Questionnaire: "Does he love me or does he not?" By answering these questions, you can be almost 100 percent certain how the particular man of your dreams feels about you;
Career: How to fashion a brilliant career without stepping over the bodies of your colleagues or falling off the edge;
Premiere of the new Children section: How to encourage a father to care for his infant.
Every Cosmopolitan Psychology reader will find a sweet surprise inserted in this issue — a delicious Lindt Excellence milk chocolate.