National Geographic Traveler Awards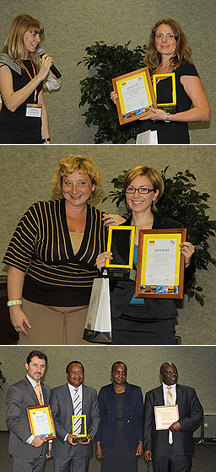 The first-ever National Geographic Traveler Awards were presented at the Crocus Expo Center on Sept. 21. Awards were given for the best tourism destinations of 2011 in the following categories: beaches, educational/informative, active recreation and ski holiday. The magazine's business partners also presented their own awards as follows: the best destination in Russia — by the Russian Geographic Society; the best business tourism itinerary — by the BFM.ru Internet portal; the best adventure trip — by Men's Health magazine; the best romantic journey — by Cosmopolitan; the best honeymoon trip — by Wedding magazine and the friendliest embassy — by The Moscow Times newspaper.
The list of winners was based on votes submitted through the magazine's website. Turkey won for "Best Beach Trip," voters chose Italy as the most "Educational/Informative," Austria was chosen as the "Best Skiing Destination," and Altai took first place as the "Best Place for Active Recreation." Lake Baikal was voted "Best Russian Destination," France was named the "Best Place for a Honeymoon," and Cypress won as the "Most Romantic Destination." Kenya was chosen as the "Best Adventure Destination," Finland took the honors for the "Best Embassy," and Great Britain took first place as the "Best Destination for Business Tourism." Each winner received a commemorative statuette fashioned by the Art Stone jewelry house.
National Geographic Traveler is happy to announce that these awards will be presented every year. Don't miss the next round of voting on the website, www.nat-geo.ru!