Agroinvestor in the Volga Region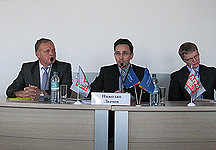 The New Agricultural Year – Initial Results, the second annual forum for agricultural businesses in the Volga region, was held in Nizhny Novgorod. Agroinvestor magazine organized the event with support from Ingosstrakh and Russian Agricultural Bank.
The forum brought together more than 90 representatives of the Volga region's agricultural sector – senior managers and leading agribusiness specialists, national and local agriholding companies, producers and suppliers of agribusiness materials and technical resources, representatives of regional administrations and others. Speakers from the Nizhny Novgorod Regional Agriculture Ministry, the Institute for Agricultural Market Studies, legal and consulting organizations, and banks and insurance companies told participants about trends in major commodity markets, prospects for the 2011 harvest and current prices for agricultural products, changes in federal legislation related to agricultural lands and state-supported agricultural insurance, how to hedge price and financial risks on the grain market, and other important business issues.
The agriforum also enabled market participants to take part in discussions and question-and-answer sessions and to make new contacts among members of the agricultural community. The forum was organized in the most convenient format for business: a full but condensed business program lasting 5 1/2 hours, included up to two hours for talks and informal discussions. More than 15 media outlets covered the event, including information agencies, federal and regional television stations and print and online resources.
The next event from Agroinvestor magazine will be the eighth annual Agriholding Russia business conference to be held at Moscow's Ararat Park Hyatt hotel on Dec. 2.