New Project from Collezioni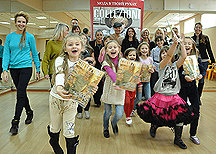 In a new project by Collezioni magazine, the Bambini School of Fashion Discoveries held its first class on Saturday, Sept. 24. The open lesson for children and their parents was organized in cooperation with the agency YES – Your Event Solutions.
In this lesson, children practiced fashion show basics and walking on the podium under the guidance of Valentina Safina, director of the Volvo Fashion Week in Moscow. Next, actress Nika Abbasova gave the young students a lesson on the basics of acting. She told them how to control their bodies and emotions in different situations, and the children immediately demonstrated their new knowledge to their parents and the schools' instructors: Svetlana Kharskoi and Marina Muravyova of the French Fries designer brand and Yelena Domozhirova and Ksenia Ladatko of Smartdecor, who will be teaching classes on Fashion English and Design and Style Basics.
Another main subject of the school is the art of posing for the camera – a skill that is in strong demand for fashion magazine shoots. The first lesson in the School of Fashion Discoveries ended with a fascinating workshop by certified psychologist and fashion photographer Yelizaveta Kuznetsova. The young models happily beamed their best smiles for the camera.