The Moscow Times Presents New Issue of Jobs & Careers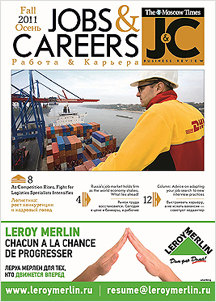 The Moscow Times has released a new issue of the bilingual English-Russian supplement Jobs & Careers. The supplement opens with an article by editor Rachel Nielsen titled "Steadiness Carries Job Market, Though Caveat Is Sounded."
The new issue is devoted to an overview of the labor market. Readers will learn about vacancies in the pharmaceutical sector, how to find a new job, and requirements for logistics specialists. It reports that the domestic labor market is favorable for senior executives, managers and blue-collar workers. Further, many opportunities are available to highly qualified candidates, especially those seeking top management positions.
The demand for pharmaceutical specialists has remained high throughout the year. The Pharma 2020 program is also pushing the Russian market toward importing fewer medicines, developing high-tech production and creating a range of new jobs at various levels.
But the optimistic assessment of the 2012 Russian labor market comes with a caveat: A sharp rise in labor market activity is unlikely if global economic instability persists through the end of the year, and a crisis would significantly curtail the demand for labor.
In his article "As Competition Rises, Fight for Logistics Specialists Intensifies," Herbert Mosmuller reports a growing demand for skilled professionals in the field of logistics. As competitions heats up, the demand for professionals with an increasingly narrow field of specialization also grows. Previously, logistics specialists handled the full range of logistics issues: Now they increasingly focus on a single aspect of the process. Faced with a shortage of qualified logistics specialists, some companies have decided to invest in training new employees. There is high demand on this labor market for candidates with a higher education — mainly in technical fields, but also in economics and transportation. But the most important qualifications are knowledge of English and customs legislation, as well as competency in special computer programs for warehousing and transport operations.
In the article by Tatyana Kuznetsova, "Finding New Work in a Shifting Market," readers will learn what employers notice and how to behave during a job interview.
The Jobs & Careers supplement is devoted to the development of education and employment, and focuses on employers, employees, job seekers and young college graduates. The publication is released biannually in the spring and fall, with a print run of 35,000 issues. It is distributed to Moscow Times and Vedomosti subscribers, at business events, Moscow Times training seminars and job fairs at Moscow's leading colleges and universities.