'Your Best Day' With Men's Health for the iPad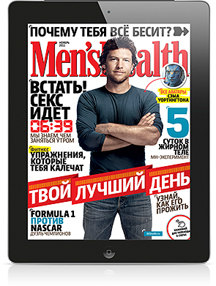 The November issue of the Men's Health iPad app has already been released for sale and includes the project "Your Best Day." For an entire month, the magazine's editors labored to understand how a man's ordinary day could be transformed into the perfect 24 hours. The result is a set of detailed instructions for one full day of life, with illustrations rendered by top British designers.
The iPad version of the special "Your Best Day" section is interactive and animated. Readers who try solving the puzzles will immediately receive answers, and those who spin the "Lunch-o-Graph" wheel will receive advice on what to eat for lunch in order to achieve a specific result — relaxation, increased brainpower, less stress or less fat.
In this issue, readers will also enjoy the interactive test "The Easy Way to Lose a Job." Flirtatious glances and passing suggestive notes on the job could lead to a major failure — the end of your career. After taking the test and receiving the results automatically (no need to add up the points on paper anymore), the reader can evaluate the degree of risk he or she is running at work.
In addition, anyone downloading the new issue will have access to an exclusive video (such as footage of volleyball player Tatyana Kosheleva), animation, trailers for new movies, useful links, convenient navigation through the issue and much more.
More information is at www.ipad.mhealth.ru.