Vkusno i Polezno Goes Monthly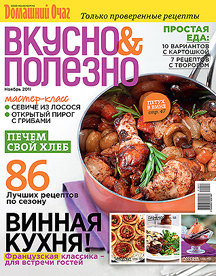 The updated Vkusno i Polezno magazine, aimed at a broad readership, has positioned itself on the culinary magazine market as the publication offering the greatest possible flavor and wholesomeness. An updated version of the publication will go on sale in late October.
Previously published quarterly, the magazine — which inspires all lovers of tasty and wholesome food toward great culinary feats — will undergo a major change in honor of its 10th anniversary. Starting in October, Vkusno i Polezno will become a monthly 100-page glossy publication.
The magazine has changed its design, adding new columns, new "house experts — a chef and a nutritionist — as well as a venue for culinary creativity: The editorial staff will prepare a range of dishes, from the simplest to the most complex, at the Domashny Ochag Institute kitchen and test the most daring recipes. The most successful and worthy dishes will be photographed and included in the following issue. And, as always, Vkusno i Polezno uses only fresh ingredients and natural spices.
The magazine was previously produced by a team of two: managing editor Yelena Pankratova and art director Alyona Ryabinina. Now they will be joined by additional staff: Natalya Filatova, who worked on the "Cooking Is Easy!" series from Domashny Ochag magazine, will serve as a second managing editor, Natalya Kolesnikova will bring her extensive experience with culinary publications to her new position as editor, Tatyana Cherkasova will join as designer, and Yekaterina Basenok will act as copy editor. Maria Vinogradova will serve as chief editor and publisher of Vkusno i Polezno, and Yulia Lisova will become the new director of advertising.