Harvard Business Review – Russia in November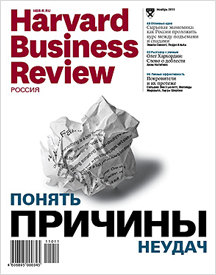 The November issue of Harvard Business Review — Russia examines the causes of failure. Nobody is averse to speculating on the benefits of making an occasional error, but in reality we are very much afraid of making mistakes. And no wonder: Since childhood we have been told constantly that failure is bad. That is why organizations punish employees for mistakes without realizing that there is a difference between making "bad" and "good" mistakes.
Also in this issue:
Samsung: the paradox of success. For 20 years now, Samsung has "grafted" Western business methods onto the production system it borrowed from Japan, and brilliantly resolved the traditional paradox of development, according to which, if a company wants to survive, it must abandon the methods that first made it successful. That is why Samsung has managed to expand beyond South Koreas' borders and confidently operates on the world stage.
Managing commodity-based economies: what Russia should adopt from international experience. Russia's commodity capital is not as great as that of such developed commodity powers as Canada, Australia, New Zealand and Norway. At the same time, the Russian economy is more dependent on the export of raw materials, especially hydrocarbons, than the economies of those countries. Their experience can help Russia understand how to best make use of the income from its substantial store of raw materials.
The nature of technological breakthroughs. These days, the most important thing is not to be the first to introduce a new gadget, but to offer people something fundamentally new by changing the nature of conventional products. Such innovations do appear, but not by descending on lonely geniuses: They come to leading companies that can mass-produce them.
Francis Ford Coppola has produced 72 films and directed 33, including "The Godfather" and "Apocalypse Now," and is considered one of the best filmmakers in history. In an exclusive interview, he discusses creativity and achieving a sense of satisfaction.