National Geographic Russia in November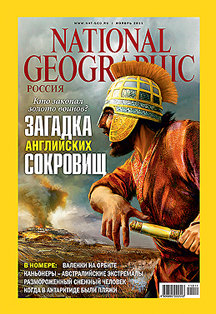 "Gold of the English Lords" is the main story in the November issue of National Geographic Russia. It tells of a mysterious treasure found in Staffordshire County. What mysteries lie in the fragments of an elite weapon buried centuries ago in England?
Also in this issue:
"Canyons: An Adrenaline Rush." Not far from Sydney, lovers of extreme sports risk their lives conquering the most difficult and dangerous canyons.
"Back in Vogue." Are felt boots back in fashion? These boots are still made by hand in the Siberian village of Rodino, where the traditions of the old masters have not been forgotten.
"Land Without Ice." The waters of the Arctic Ocean reached temperatures of up to 23 degrees Celsius during the Paleocene Epoch. That means the Earth has already experienced global warming. What awaits our planet in the future?
"The Iceman Thaweth": To unravel the mystery of the Ice Age, anthropologists have decided to thaw out frozen human remains dating from that period.
 
The new issue was released for sale on Oct. 25.