Women's Health in December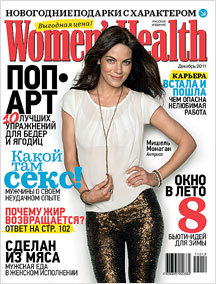 The second issue of Women's Health explains how to be good to yourself, even amid the mad New Year's rush and the need to think about others.
In this issue:
New Year's gifts with character: choose the right ones for you;
The 10 best exercises for the thighs and buttocks;
The winter marathon: what foods to eat to avoid gaining weight during the holidays;
Taking the heat: Choosing the most fashionable — and more importantly, durable — makeup to withstand the long New Year's night: a review of new beauty products and tips from Women's Health experts;
Your personal fitness trainer: how to choose a trainer and how you might hurt yourself by working out alone;
Women prepare five manly dishes;
Original recipes with meat;
Why does fat come back? The yo-yo effect: a few rules to help you avoid regaining lost weight;
Men talk about their unsuccessful sexual experiences;
Seasonal trend: prints on clothing;
How to overcome winter depression: Women's Health editors personally tried every option on themselves;
To leave or stay: how to know when it's time to change jobs;
How to drive safely in winter.
The December issue of Women's Health went on sale Nov. 22.