National Geographic Library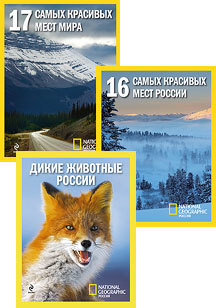 National Geographic magazine presents "The National Geographic Library," a series of books produced in cooperation with the Exmo publishing house. Now, exclusive photographs and interesting articles from the magazine will appear in book form.
The first three books in the National Geographic Library series have already been released for sale. "Wild Animals of Russia" features stories about amazing animals inhabiting Russia's vast expanses: the precious sable, sturgeon, rare Siberian tiger, brown bear and the muskrat — the only animal whose scientific name contains the word "Russian." Captured on the pages of this book, each is amazingly beautiful when seen not in a zoo, but in its natural habitat.
With the help of the next book in the series, "The 16 Most Beautiful Places in Russia," you can wander over the ice on Lake Baikal or plunge to the watery bottom in the Mir deepwater vessel, gather pine nuts in Siberia and admire magnificent Apollo butterflies in the Vladimir region, visit the swamps in the Orlov woodlands and the Putorana plateau, set foot on the edge of the world in the Bering Strait and ride a reindeer in Chukotka, explore a cave in Ordinsk and climb the "Pillars" found in the Krasnoyarsk region.
In "The 16 Most Beautiful Places in the World," you will see the most important treasure from the famous Chillon Castle, accompany prospectors to find emeralds in Columbia and explorers to find mummies in Egypt, climb a baobab tree and ride a horse in an Australian rodeo, bake scones in Bukhara and get spun around in a tornado of sardines in Indonesia, get acquainted with Orthodox believers in Ethiopia, hermits in the Judean desert and Buddhists in Tibet. You will also see rare plants on the island of Borneo, unusual flowers of Indochina and South Africa and stroll across the meadows of Altai.
With the aid of outstanding photographs of nature and its wild inhabitants, these books will help you see and enjoy amazingly beautiful places in Russia and the world that tourists rarely visit.
Ask for the National Geographic Library book series in all bookstores in Russia. The books can also be ordered online from Ozon.ru, Labirint.ru, Kniga.ru and Read.ru.