The Moscow Times Presents "Russia – Finland" Magazine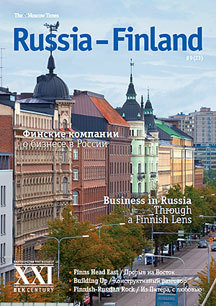 If you thought you already knew everything about Finnish business in Russia, then you definitely need to read the latest issue of "Russia – Finland" magazine. This publication by The Moscow Times includes interviews with regional directors and top managers that shed new light on Finnish business.
Russians are familiar with such Finnish companies as cell phone manufacturer Nokia, mobile network provider TeliaSonera and the Stockmann department store chain. But those companies are just the tip of the Finnish iceberg. In addition to those, Finnish construction companies, law firms, oil companies, developers, investment funds and equipment manufacturers are also doing business in Russia.
The supplement's Culture Review is dedicated to Dusha Pitera, the Finnish musicians who sing in Russian about the northern capital and its beautiful ladies. Also, Finnish Consul General in St. Petersburg Olli Perheentupa discusses foreign trade.
The publication also contains interesting information about Finnish food and drink manufacturers seeking new approaches to the Russian market.
Every article in the supplement is presented in both Russian and English.