Wedding School Onboard a Yacht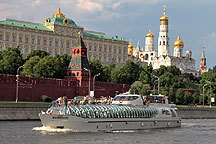 Wedding magazine held its winter session for brides and grooms in cooperation with the Anella wedding agency. This time, Wedding school guests journeyed down the Moscow River on the Radisson Royal yacht in a warm and cozy atmosphere far from the hustle and noise of the big city. Florists from the Okva floral studio added beautiful arrangements to the experience.
Guests strolled along the deck of the yacht to the gentle strains of live violin music, giving the event the feel of a relaxed holiday. Agency officials shared wedding secrets and the details of wedding preparations: how to choose performers in accordance with the theme of the wedding and how to prepare an interesting show. Yes agency creative director Nikolai Perepelkin shared unique ideas for making a fun, romantic and beautiful celebration and the importance of attending to all the details to ensure that everything comes off perfectly.
The representative of the Radisson Royal Yacht offered the idea of holding winter weddings on a yacht as a creative venue for the event. Vanilla wedding salon specialist Yekaterina Akishina told brides which cut, color and texture of dress ladies should choose for their particular figure and complexion, as well as how to choose the right wedding dress accessories to create a complete bridal image.
Larissa Renard Personal Life Academy expert Mila Gorlitsa spoke on "How to preserve love." She advised the future newlyweds to treat each other with respect and patience and to appreciate every moment that they have together. She also used tarot cards for those who wanted to have their future told. The brides-to-be also enjoyed personal consultations on wedding makeup from a Lancome brand specialist.
At the height of the event, guests were invited to the stage to dance to the sometimes slow, sometimes hot rhythms of the Player Beat cover group — creating the atmosphere of a real wedding. The evening closed with a holiday buffet and a wedding cake from the Radisson Royal yacht chef. All guests received complimentary fragrances from the Cartier Baiser Vole brand and went home charged with positive emotions and plans for organizing their own weddings.