Collezioni in December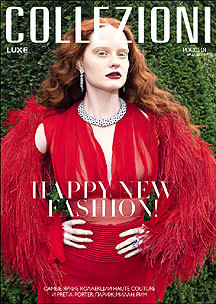 The December issue of Collezioni Luxe magazine features the best evening dresses, gorgeous accessories, gifts for the New Year and much more.
In this issue:
Leading designers' workplaces. Everything that surrounds, excites and inspires the most fashionable designers when creating the main collections of the season.
A new stage in fashion journalists' careers: Now they create fashion, too.
An interview with Monica Belluci — Italian actress and the face of Cartier jewelry.
Gothic in fashion. From its origins to the present day in fashionable designers' collections.
Yekaterina Pavelko selects the best books about fashion.
Speed in fashion. New technologies are changing the fashion world: Fashion shows are broadcast online, buyers place orders from their iPads, and a single brand's labels can grow at lightning speed. But will designers be able to keep pace? Read the blog by editor-in-chief Irina Chernyak.
The Grasse factory — the acknowledged perfume capital of the world where the best fragrances are born.
Beauty: flashy makeup for holidays and parties. The latest procedures for restoring hair.
The pinnacle of design art — haute couture collections. The best evening dresses and gorgeous accessories.
Itineraries for fashion travel and exciting New Year's gifts for men, women and children.
Collezioni — fashion at your fingertips!