New Issue of Women's Health Released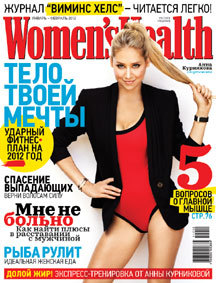 The third issue of Women's Health magazine boasts the slogan: "A New Year – A New You!"
Many women resolve to improve themselves starting Jan. 1. Women's Health editors created a program for the whole year so that readers' dreams of possessing a healthy, energetic, strong and – let's not mince words – absolutely perfect body can finally come true.
In this issue:
The body of your dreams: a crash fitness plan for 2012;
Fish first: the ideal food for women;
Cover lady: Anna Kurnikova shares her secrets for a perfect figure and offers an exclusive workout plan;
Relationships: how to break up with your partner without losing your self-esteem;
The truth about what everyone is talking about: all of the pros and cons of the most popular beauty treatments;
Love and sex: a test to help you expand your sexual horizons;
The lost sheep: how to avoid getting foolishly lost without using a GPS device;
What is your body telling you? Learn to read your body's hidden messages.
The new issue was released for sale on Dec. 20.