Collezioni New Year's Party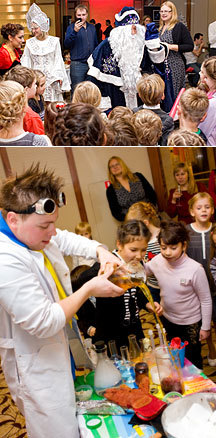 Collezioni magazine held a children's New Year's party at the InterContinental Moscow Tverskaya hotel on Dec. 18 for its long-time business partners and advertisers and their children. Approximately 200 guests attended the event.
For the first time, the event included a fashion show of children's clothing by the Collezioni magazine School of Fashion Discoveries. The young models showed off chic clothes provided by the Kangaroo children's clothing store chain. One highlight of the event was a performance of "The Nutcracker" by the Home Theater group led by A. Applebaum. The incredibly beautiful and moving performance using the avant-garde shadow theater technique was a huge success with viewers.
Guests also enjoyed an exciting science show from the Miracle Lab that taught the future researchers in the audience many new and interesting things. Children and parents alike were thrilled by the magic, lab tests and mini-experiments. The kids also took part in workshops for making Christmas decorations, modeling dough, floral design and show bubbles.
A visit from Father Frost and the Snow Maiden marked the culmination of the event. They led the children in dances and staged exciting contests. Everybody received a gift. All of the guests at the children's holiday experienced a sleigh-full of positive emotions and fun.