Music and Poetry Salon by Na Rublyovke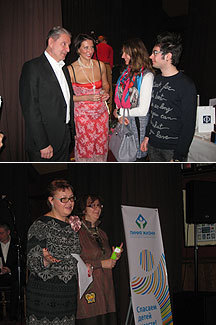 The Na Rublyovke newspaper held its first charity music and poetry salon at the Chester Ferry restaurant. The highlight of the evening was a program of music and poetry from renowned Russian performer Veniamin Smekhov and distinguished Russian actress Alika Smekhova. The gourmet buffet from the Chester Ferry restaurant and the floral compositions from the Unusual Bouquets floral salon contributed to the charming atmosphere.
The charity auction was the main event of the evening, with all funds collected going to the Lifeline charitable foundation. The following lots were auctioned off: a brooch from designer Alyona Rasnitsina, a VIP cosmetics set with black caviar, a vial of edible gold from the Moiseikin jewelry house, a pillow from the Love collection of the Dreams and Secrets company, a coupon from the Magnus Club for a four-day spa program and stay in the world's only organic hotel, The Chateau – Organic Spa & Wellness Resort, a picture by Anna Nikiforova titled "The Cheshire Cat's Smile," children's toys from the Kangaroo store, prizes from the Moser and Meissen collection of the House of Porcelain, a certificate for a Tibetan spa massage from the Asia Beauty Spa, gingerbread cookies from the Volkonsky cafe and confectioner, an iPod from the Re-Store company, two certificates for a night in the Talion hotel of St. Petersburg (the former Yeliseyev Palace) as well as copies of the "Autographs of Contemporaries" book.
All of the 69,000 rubles ($2,183) raised at the event will be donated to treat Anastasia Prokhorenko.