Custom Publishing Invites Readers to Austria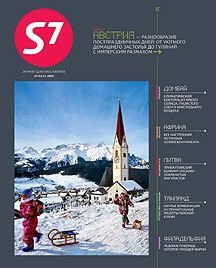 Each new issue of the S7 on-board magazine contains travel routes, stories, people, myths and cultural accents from around the world. In the January issue, Custom Publishing takes readers on a journey to Austria, the land of the "classic" New Year's, joins photographer Nick Brandt in admiring the beauty and majesty of African wildlife and examines the magical world of the cinema. The editorial staff also samples the artful combinations of exotic Thai cuisine, tests the steep slopes of Dombai and tries on clothing designed for warmth and prestige. 
As always, the publication contains a wealth of useful information to help passengers make pleasant and productive use of their flight time. S7 magazine will help you find new ways to travel. Welcome aboard!