Viadeo Professional Network Now in Russia!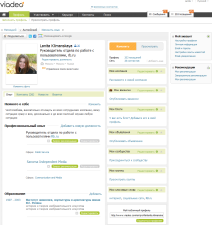 The Viadeo professional social network announces the launch of its Russian-language service. Now Russian professionals can access a service used by more than 40 million Viadeo participants around the world.
Viadeo has the second largest number of users among all professional social networks in the world. It holds the leading position in Europe and in the emerging markets of China, India and South America.
Viadeo's development in Russia is part of a joint venture with major publishing house Sanoma Independent Media, known for Vedomosti, Cosmopolitan, Esquire, Harvard Business Review, Popular Mechanics and many other publications.
The publishing house's quality Internet audience, calculated by the TNS Web Index at 13 million individual users monthly, will now have access to this useful professional development and career management service.
The Viadeo Russia team is led by experienced professionals from the Sanoma Independent Media publishing house: Project General Director Natalya Moiseyenkova (rb.ru) and Content Director Yelena Yevgrafova (Harvard Business Review).
Viadeo is aiming at a target audience of 10.5 million professionals who are active Internet users.
Viadeo offers services for users to manage their business contacts and career, share experiences with colleagues and business partners, promote their businesses and recruit staff.
Any professional using Viadeo is able to:
Increase his or her visibility on the labor market by using powerful tools for self-presentation;
Share experiences and communicate with colleagues from Russia and other markets in a range of professional groups;
Attract business partners and clients to their projects;
Manager business contacts;
Apply effective recruiting solutions by using all the search capabilities of social networks and a system of recommendations for people who know one another;
Set up a "smart" news feed from leading Russian and Western business media with the use of keywords.
According to Project Director Natalya Moiseyenkova, "Our goal is to unite the most advanced and active working professionals in the country by providing them with tools for career development, managing business contacts and job search that have already been proven in many markets. The Viadeo platform is very convenient and effective, and I am certain that it will attract a quality audience of professionals," she said.