The Moscow Times Turns 20!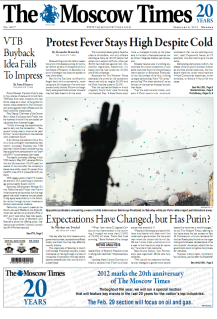 The Moscow Times, Russia's only English-language daily business newspaper, celebrates its 20th anniversary in 2012. A host of special projects and publications are planned for the anniversary celebrations.
The newspaper will run a special anniversary "20 Years in Russia" heading throughout 2012. Each publication in the series will focus on key events of the past 20 years in a major sector of Russian business. The project will culminate with "20 Years of Business in Russia with The Moscow Times," a glossy magazine to be published in November 2012.
The Moscow Times will again draw on its photo archives for the anniversary year. In September 2012, it will publish an album showing Russia over the past 20 years as seen through the eyes of foreign journalists. On Oct. 15, the Moscow House of Photography directed by Olga Sviblova will run a photo exhibition by the same name.
The Moscow Times will also commemorate its 20th anniversary with the release of "Russia for Experts," the third book in the "A Foreigner's Guide to Russia" series. The book will include 20 years, 20 profiles and 20 stories based on the personal experiences of foreign business leaders in Russia.
The Moscow Times newspaper is happy to celebrate its anniversary year along with its readers and business partners.