New Talking iPad App from Men's Health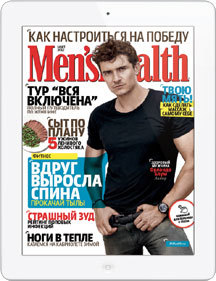 It's no joke: For the first time in the history of the Men's Health electronic version, the application now includes an audio column titled "Male Talk." Now you can enjoy your favorite magazine while on the go — on a busy subway car at rush hour or simply walking down the street. Just don your headphones, slip the iPad into your bag and listen to Men's Health Russia.
The March issue for the iPad also includes an exclusive video interview with Russian ice dancing silver medalist Elena Ilinykh, a video documenting how editor Ivan Glushenko drove for five winter days in a convertible without freezing, trailers of the latest movies, links to this month's best games in the AppStore and animation of the IL-76 MDK flying laboratory that enables passengers to experience weightlessness. Much of the material in the iPad version is accompanied by music and a gallery of photos not found in the print version of the magazine. Users can also move in for a close-up look at every item featured in the "Guide to Style" section.
Men's Health is a magazine for those who value comfort. Accordingly, readers can download the iPad issue in background mode while working with other applications, and then enjoy all of the fascinating interactive content it contains.
Men's Health Russia offers bargain prices for subscriptions to its iPad app: three months for just $6.99, six months for only $12.99 or a year for $20. Details are available at ipad.mhealth.ru.