National Geographic Russia in March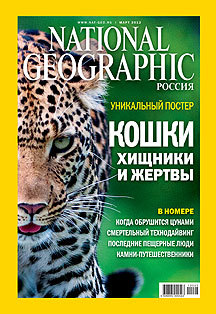 Tigers, the largest members of the cat family, are the cover story of the March issue of National Geographic Russia. These predatory cats are now on the verge of extinction: The planet holds 7 billion people, but only several thousand tigers. We can save these animals, but are we prepared to make sacrifices to do it? 
Also in this issue:
Untamable Toms. Cats behave differently than other household pets, but are very similar to their wild ancestors. Despite the fact that people continue to develop new cat breeds, it has proved impossible to completely domesticate this feline predator.
Expedition to Blue Lake. This expedition set out to investigate the deepwater caves of the Lower Blue Lake and to prove that it is the deepest karstic lake in the world. However, the scientific expedition unexpectedly turned into a tragedy for its participants…
Stones from Nowhere. Giant boulders can be found in the most unexpected places: in urban areas, national parks and Indian reservations. How did those huge stones get there?
Lessons from the tsunami. The most devastating earthquake in Japanese history and the subsequent tsunami that claimed thousands of lives have helped scientists make a precise forecast for the near future. Where and when will the next big wave hit?
The issue went on sale Feb. 28.