Na Rublyovke Celebrated Winter Holiday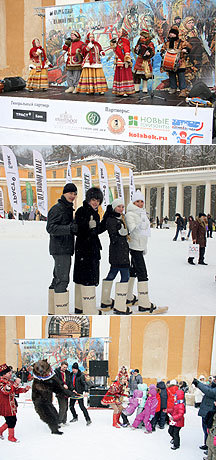 The Na Rublyovke and Novosti na Novoy Rige newspapers held a traditional Great Maslenitsa celebration at the Arkhangelsk museum and estate.
"Na Rublyovke celebrates its 10th anniversary this year," newspaper publisher Galina Ustinova told festival participants. "We have a number of interesting activities lined up to honor the event, and the Maslenitsa celebration on the grounds of the Arkhangelsk estate is one of them."
The main festivities were held on the parade grounds of the estate where a Skomoroshnaya Meadow (fun zone) was set up with traditional Russian entertainments such as a blind-folded pillow fight, a giant jump rope and tug-of-war. Handicrafts were sold in nearby tent pavilions. An exhibition of ancient military ammunition was also on display at the festival. In the "Hero's Playground" visitors could fight with swords and throw javelins. For children, the Petrushka Theater staged puppet shows and led circle dances to songs sung by the Perepolokh folk ensemble.
Students of the Maria Averyanova Russian School arrived from Podolsk to perform a mini-play about Maslenitsa. Irina Volina, Russky Naslednik education foundation president and Slavyansky Dvor general director, presented the young actors to the assembled guests. "I am very happy to present children who receive the best that their teachers, parents and guardians can give them. Our common goal is to protect children and to preserve Russian cultural and educational traditions."
The high point of the event was a performance that included a trained bear. The dancing, contests and folk games lasted almost until sunset. The Kolabok.ru catering service and the Slavyansky Dvor elite real estate agency provided the traditional Maslenitsa refreshments. Festival guests enjoyed homemade pancakes washed down with hot tea or mulled wine. The holiday ended with a comical hockey game played with brooms, a march around an effigy of Winter and a disco by the "First Russian Folk Event Agency."
The newspaper received support in preparing the celebration at the Arkhangelsk estate from its long-time business partners New Horizons, the City Lights and Inter-Event agencies and the Slavyansky Dvor elite real estate agency. Trust National Bank acted as general sponsor to the event.