National Geographic Russia in April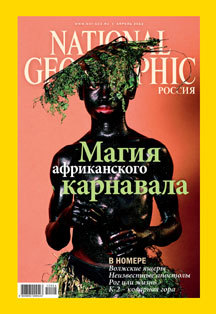 An African masquerade is the cover story of the April issue of National Geographic Russia. Readers will find themselves in "the world of masks" – a mysterious world of magic that transforms ordinary mortals into gods. After all, in Africa, costumes are more than just a form of entertainment.
Also in this issue:
Living with sharks. On the islands of New Guinea, fishermen feed giant whale sharks, the world's largest marine fish. Learn why they tame these dangerous predators.
K-2. One mean mountain. Of all those who have attempted to conquer Chogori (K-2), one in four never returned home. But that fact didn't stop Austrian mountain climber Gerlinde Kaltenbrunner. She became the first woman to scale all 14 of the eight-thousanders – peaks more than 8,000 meters above sea level – without the aid of supplemental oxygen.
Leviathans of the Volga. Marine predators from the era of the dinosaurs once swam the waters of this mid-Russian sea. Their bones are still found on the banks of the Volga.
Black scorpions of the Toropa River. The story of how double-tailed water larvae complete their transformation into winged insects on the sun-drenched banks of the Toropa River each spring.
In the footsteps of the apostles. It is written in the New Testament that Jesus named his 12 most loyal disciples as apostles. But what if there were more?
The passion for horned beasts. The battle for horns. A fierce war between poachers and law enforcement agents is being fought over the rhinoceros horn – a prize with a value sometimes exceeding even that of gold and cocaine.
The issue will be released for sale on March 27.