National Geographic Traveler in the Mediterranean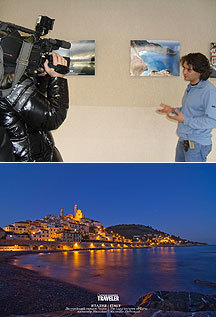 The opening of a photo exhibition by the National Geographic Traveler editor-in-chief was held at Sheremetyevo Airport on March 30. Alexander Zheleznyak presented photographs of his travels in countries bordering the Mediterranean Sea. 
The photos depict picturesque Italian towns, the stylish beaches of the French Cote d'Azur, tranquil landscapes of Greece and many other places in this amazing region. And despite the fact that the countries ringing the Mediterranean adjoin one another, each has its own unique character. The National Geographic Traveler photo exhibition will plunge visitors into each of those separate and stunning worlds.
At the opening, Zheleznyak conducted a mini photo tour around the most picturesque places on the Mediterranean coast and gave an interview to a crew from Moskva-24 TV. At a meeting with members of the Sheremetyevo fan club held after the opening, Alexander Zheleznyak discussed the principles guiding the selection of photographs for the magazine and his personal experiences with travel photography.
The photo exhibit opened on March 23 and has already attracted the attention of travelers and airline crew members. The exhibit, located in the gallery linking Terminals E and F, is open round the clock and will run until June 1, 2012. Admission is free.