Na Rublyovke Celebrates Anniversary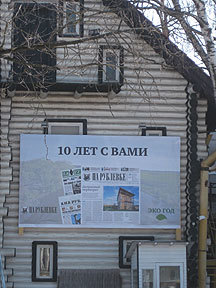 The Na Rublyovke weekly newspaper turned 10 on April 11. This Thursday, the anniversary issue will be issued for the first time in a surprise format of 36 pages.
Over the past 10 years, Na Rublyovke has evolved from a 12-page, bimonthly publication to a weekly newspaper of 20 to 24 pages and a print circulation double its former size. It also boasts topical supplements such as the annual "Useful Addresses" and monthly pages for children. Today, Na Rublyovke has become a newspaper that readers eagerly look forward to enjoying every Thursday.
Since 2006, the Na Rublyovke editorial team has also produced the sister monthly publication Novosti na Novoi Rige with a print run of 10,000 copies.