Wedding School: The Wedding as Art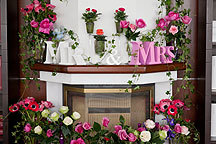 Wedding magazine, in cooperation with the BMWedding agency, held a spring session of the Wedding School last Sunday at one of Moscow's best hotels, the Ararat Park Hyatt.
The huge number of flowers of different colors decorating the room added to the spring atmosphere of the event. Guests had themselves photographed against a backdrop of Claude Monet's "Water Lilies," also adorned with fresh flowers and greenery. The program was packed with demonstrations and workshops covering each stage of wedding preparations: The TeamoStyle Salon provided examples of printed wedding invitations as well as demonstrations of how to present the invitations; participants of the Dance with the Stars project gave a workshop on staging dances at a wedding; and One Minute of Fame finalist Tatiana Artamonova gave a unique and virtuoso performance for the assembled guests.
A key event of the evening was the presentation of the new book "The Perfect Wedding – or How to Organize the Event of Your Dreams" published by Wedding magazine. As part of the presentation, Wedding editor-in-chief Natalia Kulikova held a drawing for a personally autographed copy of the book. The Wedding Rooms salon staged a demonstration of swanky wedding dresses and a presentation and showing by the KinoModa company helped grooms pick out their wedding suits. Each of the brides-to-be could try on exclusive jewelry from the new "Pure Art" collection by Frey Willie jewelers, and have wedding makeup applied by a specialist from the Giorgio Armani brand. Later, Sodis Travel Agency representatives presented guests with several unique honeymoon travel itineraries. The evening's guests agreed that this was the most interesting and instructive class yet by the Wedding School.
At the conclusion of the event, all of the guests received complimentary gifts from Wedding magazine partner Giorgio Armani and were treated to a celebratory banquet organized by the Ararat Park Hyatt hotel.