Women's Health in Metropolis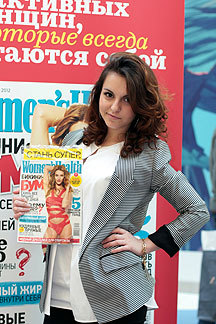 Women's Health magazine conducted a promotion at the Metropolis shopping center as part of an advertising campaign supporting the release of the April issue. Banners advertising the new issue hung in the common areas of the shopping center from April 2 to 15. Also, on Fridays and weekends, WH set up a promotional booth where shoppers could learn more about the magazine and its vision and take part in exciting promotions and contests.
From April 6 to 8, shoppers could have themselves photographed against the backdrop of the April cover and various promotional posters. In addition to taking part in the fun activities and a professional photo shoot, guests received the latest issue of the magazine and the chance to win a six-month subscription to Women's Health. The professionally stylized photos were posted on the magazine's Facebook page where visitors could vote for their favorites. The 10 participants earning the most votes won six-month subscriptions to the magazine. 
From April 13 to 15, shoppers were invited to take a fitness break by playing Xbox Kinect right in the WH promo booth. Participants could select their workout and test their abilities in tennis, darts and dancing. The winners walked away with not only a great mood, but also the latest issue of Women's Health as a complimentary gift.