Cosmoshopping.ru Supported Volvo Fashion Week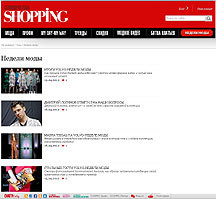 The Cosmoshopping.ru site once again served as media sponsor to Volvo Fashion Week, held this time at the Gostiny Dvor from April 4 to 9. Every day, site editor Ksenia Ruzanova, videographer Alexei Spodyneiko, photographer Ksenia Yepifanovskaya and journalists Yekaterina Predeina and Anastasia Poletayeva were in the thick of activities.
The production team created more than 20 separate reports, six of which were accompanied by videos featuring exclusive interviews with Masha Tsigal, Galina Yudashkina, Marusi Zaitseva, Yana Rudkovskaya, Swiss brand Oscar Jacobson designers and other celebrities attending the fashion shows. In addition, photographer Elina Sazonova created a unique and artistic photographic rendering of the backstage world.
Cosmoshopping.ru also ran a contest for the three weeks preceding the event, during which readers had a chance to win tickets to showings by Lublu Kira Plastinina, Sergey Sysoev, Anna Miminoshvili and Kute.
What's more, the Cosmoshopping.ru site editor took part in the Volvo Fashion Week business program, telling visitors about the nature of working in the fashion journalism field.