Collezioni Chief Editor Directed Fashion Show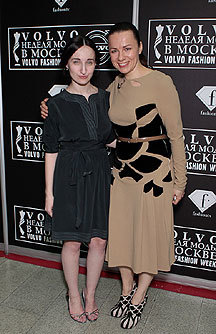 For the first time, Collezioni magazine editor-in-chief Irina Chernyak acted as the art director of a fashion showing. The Anna Miminoshvili showing at Volvo Fashion Week in Moscow was also the first attempt at cooperation between a fashion magazine and a designer.
This is an entirely new development in the Russian fashion market. Irina Chernyak personally cast the fashion models and developed the concept for showing the designer's clothing. Chernyak published a daily record of the process in her blog at www.collezioni-magazine.ru. Style TV took an interest in the story and taped a video chronicling the creation of the show that aired in mid-April.
The Anna Miminoshvili autumn-winter 2012/13 collection takes its inspiration from the English Middle Ages. A young lady wearing one of the designer's dresses looks like the heroine of a Shakespearean sonnet: She is an independent woman, striking and yet mysterious. Her evening wardrobe includes high-necked, lightweight corseted dresses along with elegant jumpers. The collection is less a depiction of historical accuracy than a personal fantasy on a Western theme.
An especially decorative element in the collection was the usual matches that took the form of offbeat petals of music that has been frozen in time. The designer's varying interpretations of flower petals as a symbol of rebirth and femininity have become her trademark from season to season. One highlight from the collection was a second line of shoes: ankle boots and dress shoes of the Anna Miminoshvili brand produced by a team of the best shoe-makers of Tbilisi.